(I have decided to take commissions for the first time ever, so bear with me.)
I have discovered a love for making prayer beads for people. The process itself is very soothing and meditative for me, and I would love to share these works of art with you.
I can make you a traditional Japa Mala (108 beads) or a smaller Mala, like a bracelet (with a number of beads that is a multiple of 108). I can also make traditional Catholic rosaries (complete with the holy crucifix or a simple cross) as well as Islamic/Sikh/Baha'i prayer beads (with a small tassel).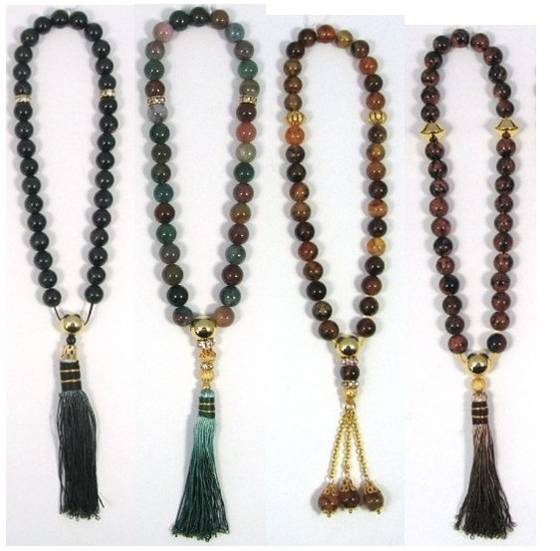 ***NOTE: These images are examples from the internet and do not reflect any existing pieces.***
All my prayer beads are handmade using a single length of cord/string. (In my opinion, it's bad luck to have to use multiple pieces of string tied together.) Traditionally, there's a single knot between each bead, but (at your request) this could also be a smaller, granular bead of the same or a different color/stone.
In the Japa Mala, the Meru (mountain) bead is not to be counted, but serves as a pivot point from which to begin and end counting. This can be either a traditional-looking bead, or a pendant.
My choices for beads/stones and pendants are limited, so please be flexible with your requests. When submitting a request, please include:
style (Japa Mala, Rosary, or Middle Eastern)
length (traditional or bracelet -- NOTE: bracelet style not available for Rosaries)
stone/bead color preference
thread color preference
pendant preference (if applicable)
If you really don't know where to start -- what style, stone or bead color you want, for example -- then tell me what purpose you want the prayer beads to serve. Will you use them in a traditional manner for prayer or chanting? Or do you hope they will empower you with some kind of attribute? I am more than happy to discuss any ideas to create the perfect prayer beads for you.
***PLEASE NOTE: Prayer beads from any religion are not jewelry, but sacred works of art meant to connect you to the Divine and Almighty. They should be carried, worn and treated with respect and reverence. I ask only that your requests be sincere.***
Prices for prayer beads start at $30+shipping. Bracelets start at $25+shipping. Please note that very specific requests (exotic or precious stones, multiple colors, additional beads, intricate tassel work, etc) will add to the price of the order.
Please send me a note to begin the ordering process. Once you're satisfied with the design, I can give you a more accurate price quote, and I can then begin work on your order. Payment is through PayPal.
Thank you in advance for your orders, patience and kindness. Peace be upon you.